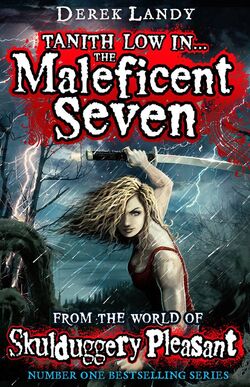 The Maleficent Seven by Derek Landy
(The Maleficent Seven is not part of the main 'Skulduggery Pleasant' series and is best described as 'a branch off of the main story-line' and is in chronological order after 'Kingdom Of The Wicked' but, before 'Last Stand Of Dead Men')
Tanith Low, trained as a deathly blade in the shadows and much later in her life, after becoming a mercenary, became 'good'. Well, after unintentionally getting a Remnant attached to her soul, Tanith has unfortunately gone…'bad'. The Remnant inside her gifts her with incredible strength, speed and knowledge, from all it's hosts over the millions of years it's been alive. Yet it has given Tanith immunity from such human feelings as remorse and love, which is as much a gift as a curse. Obviously because of these physical and of course internal changes, Tanith isn't quite…well…Tanith, anymore. As well as gifting her with all these amazing and maybe not so amazing abilities, the Remnant is now as much a part of Tanith, as Tanith is a part of herself, the Remnant having as much control over Tanith's actions as Tanith herself does, if not more.
The Remnant inside her, longing for the coming of Darquesse and Tanith's lack of remorse and a moral vision, other than ensuring Darquese's return, means that Tanith or the combination of Tanith/Remnant have a common goal they share. All Tanith needs is something or more accurately things, which stand in Darquesse's and by extent Tanith's way, to give Tanith the spark to rekindle ember, which was which was once the meaning in her life. With the help of seven other mismatching Villains and outcasts including; Billy-Ray Sanguine, the Hitman Deluxe, Dusk, the rabid vampire and Springheeled Jack, the Terror of London, Tanith hopes to aquire and ultimately destroy the all powerful 'Godkiller' weapons, each capable of killing nothing less than a God or Darquesse.
However there is a problem. Tanith isn't the only one who figured that the Godkiller's powers could hinder Darquesse in some way, potentially stopping her destroying the world and it's 'lowly' inhabitants. Any potential competition for the possetion of the weapons would be no problem to Tanith, even without her new abilities. That is, if her competition had anyone other than any one of the former members of the Dead men, in their ranks! Will evil prevail and ensure the destruction of the world? Or is there some sliver of good, even in the most twisted and darkest of us?
Teen Rating: A lovely quick glimpse into the intricacy of the world Derek has created for the Skulduggery Pleasant series.     3.9/5       11+